Ranikhet, Uttarakhand's hill resort, is located at 1,829 metres above sea level in the Almora district. Ranikhet means 'Queens Land,' a year-round tourism destination for those who appreciate natural beauty.
Overview
Ranikhet is a destination that exemplifies the finest of the Himalayan range. Ranikhet provides everything a city resident may want to calm their stress. Ranikhet has a centuries-old imperial and colonial past, and a notable garrison town is a place of many courageous heroes like General Kashi Nath Adhikari. There was once a plan to make Ranikhet the summer headquarters of British India.

It is now the Kumaon Regiment's headquarters. Ranikhet remains enchanting, awash in flowers, trees, and lush meadows in the middle of gorgeous Himalayan environs. The celebrity of the Tamil cinema industry is a frequent visitor to Ranikhet. The location of Ranikhet attracts many celebrities, including superstar Rajinikanth, who like the peace and serene beauty of this place.
Location
Ranikhet may be reached by rail. The nearest railway station is Kathgodam, 80 kilometres away from Ranikhet; the railhead is well linked from all major cities and towns; thus, travellers may arrive at this railway station and then take a taxi or cab to Ranikhet.

If you want to go to Ranikhet by air, then Pant Nagar Airport is the closest airport at 119 kilometres.

Roads connect Ranikhet to the rest of the state. You can take your road trip to Ranikhet throughout the year; routes travel through Haldwani and Bhowali. Nainital, Kathgodam, Ramnagar, and Delhi are all accessible by bus from Ranikhet.

Between New Delhi and Ranikhet, there are no direct buses. You may take the Kathgodam Shatabdi Express to Haldwani, where you can take a bus to Ranikhet.
Things to do
The stunning vista of the entire Himalayan range makes this a must-see in Ranikhet. Several locations in and around Ranikhet would require at least three days to visit at a leisurely pace. Ranikhet is a small hill town in Uttarakhand famed for its beautiful Himalayan vistas. Here is the list of all attractions in Ranikhet that you must visit -
Bhalu Dam is an artificial reservoir close to the gardens above, also has fantastic views of the Himalayan ranges and is a perfect area to visit in Ranikhet.
Upat Golf Course is located in Ranikhet with impeccably manicured grounds is maintained by the Indian Army, making it one of Asia's highest golf courses. It is a must-visit place here.
Spend a fantastic day in Naukuchiatal, a scenic location. One of the most popular activities in Ranikhet is driving up to Naukuchiatal to spend a fabulous day.
You should visit the Jhula Devi temple to be astonished by the sights and sounds of tens of thousands of bells ringing by worshippers in exchange for fulfilling their desires.
Villa Chinar is a wonderfully unique cottage where you can enjoy clear views.
Chaubatia Gardens is the place where beautiful gardens of rhododendrons and lilies, fruit orchards of peaches, apples, apricots, and 150 more species of fruits. The garden seems excellent during the summer months, and it also offers spectacular sunsets. So it is a must-visit the place.
Rani Jheel is a large artificial lake nestled among natural hills and trees, making it a popular tourist destination for boating and simply relaxing.
Ashiyana Park is a park where you can enjoy the sights of the herbal gardens, colourful fountains, and breathtaking vistas of the Himalayan peaks in Ranikhet.
Dwarahat is a must-visit place to experience the spectacular shrines of all significant Hindu deities.
Witness the Katarmal Sun Temple's architectural splendour in Ranikhet to witness the history. The Katarmal Sun temple was built 800 years ago, and its spectacular architecture demonstrates the ability of artisans in ancient India.
In Ranikhet, adventurers may also go paragliding, flying foxing, boating, and kayaking. Nature enthusiasts may unwind in this serene setting while taking in the breathtaking views of the surrounding forests, hills, and valleys.
Best time to visit
Before the monsoon season begins, March and July are typically adequate to visit Ranikhet.
Winter is the season to travel if you want to see the village Ranikhet blanketed with snow. The temperature ranges between 13 and 7 degrees Celsius from October through February. If you consider a vacation during the winter, it is best to carry warm clothing.
March to July are typically the finest for visiting Ranikhet before the monsoon arrives. The region is a hub for a variety of cultural and sporting events. Ranikhet's winters welcome you with snowfall, which draws significant crowds to the city at this time; otherwise, you can visit Ranikhet throughout the year as per your schedule.
Hotels
There are many options available in Ranikhet to stay in peace, so you can quickly get many luxurious hotels over here. You can also book your preferable suit online at the best price. So nothing is a big deal now. We suggest the four best-rated accommodations for you and your family to get the best comfort.
Woodsvilla Resort Ranikhet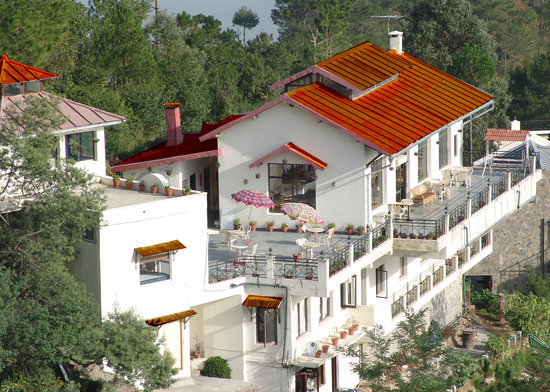 Woodsvilla is a mesmerizing place to live in Ranikhet. This Villa is where the heart and soul are. It's a joy to see the sky change colour from golden yellow to sunset orange to deep purple and to watch the Himalayas enjoy the moonlit night calmly. You can also witness the moon's most passionate coupling with the Himalayas.
TAG Resorts Queens Meadows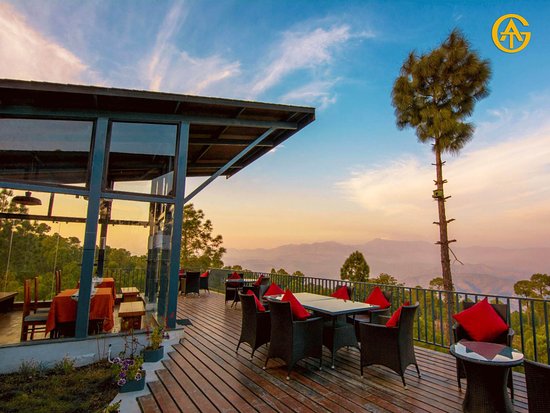 Queens Meadows is a Traveller's Delight! Queens Meadows is a small Himalayan eco-resort. The resort, perched on a hilltop, provides breathtaking Himalayan vistas from October to March. The majestic peaks may still be visible during the summer in the early morning.
West View Hotel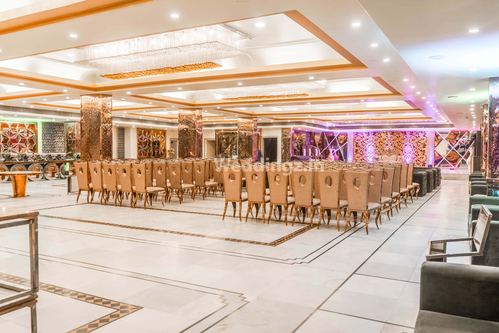 The West View Hotel is surrounded by pine and fir trees and spans 6 acres, amidst all the natural beauty. The West View Hotel is a family-run heritage resort that dates back to 1918. The West View has all amenities and facilities that the tourists love. You can stay here in peace.
Chevron Rosemount, Ranikhet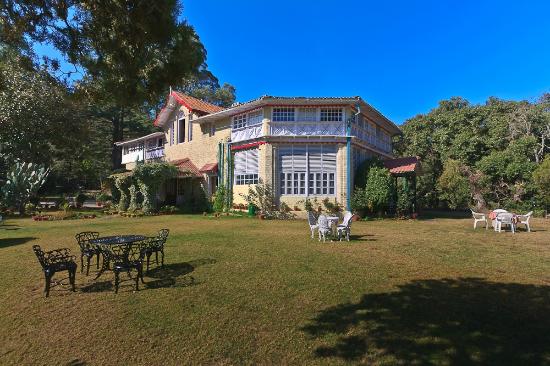 Chevron Rosemount in Ranikhet is a romantic hotel that puts the best of Ranikhet right at your fingertips. The internet connection is readily available for your comfort and staying connected. In this hotel, guests have access to a 24-hour front desk, a concierge, and room service. In addition, the Chevron Rosemount Ranikhet has a fitness facility and complimentary breakfast that makes your trip to Ranikhet even more enjoyable.