Mukteshwar is a hamlet and tourist attraction in Uttarakhand. It is located high in the Kumaon Hills at an elevation of 2171 meters.
Overview
The name came from the 350-year-old Mukteshwer Dham temple dedicated to Lord Shiva. Mukteshwar is a beautiful tourism spot located in Uttarakhand's Nainital district. Mukteshwar is well-known for rappelling, rock climbing, and other adventure sports and its breathtaking views of the Himalayan Mountains. . Mukteshwar is one of the safest places to visit in Uttarakhand, and travelers should have no concerns staying in Mukteshwar alone.

One may quickly locate a suitable ride to take them up to Mukteshwar. As a result, you receive hassle-free travel. Fruit orchards, undulating meadows, coniferous woods, temples, and waterfalls are just a few of Mukteshwar's tourism attractions. Mukteshwar is the most excellent and most amazing hill stations near Nainital. This magnificent hill station, is a popular tourist destination for adventure lovers. Mukteshwar is a must-see destination if you are planning to visit Uttarakhand
Location
If you want to reach Mukteshwar, Pantnagar is the closest airport. Mukteshwar and Pantnagar are around 100 kilometers apart, so it is straightforward to avail this place for your destination holiday. You may take a cab to Mukteshwar from the airport. Flights are available daily.

If you want to reach Mukteshwar by train, the nearest railway station is Kathgodam, 62 kilometers from Mukteshwar. This station is connected to Delhi, Lucknow, and Kolkata. You can get cabs to finish your journey from here.

You can also reach Mukteshwar by bus. From ISBT, Anand Vihar, buses run to Haldwani. Luxury buses and private coaches are also available throughout the route for dependable services.
Things to do
Mukteshwar is a charming hill town famed for its atmosphere, pleasant weather, and breathtaking vistas of the snow-capped Himalayan peaks. Apart from being charmed and entertained by the most picturesque surrounding scenery, Mukteshwar offers a variety of activities for an enchanting and unforgettable vacation. Here is the list –
Trekking is one of the fascinating activities in Mukteshwar because of the undulating topography, unexplored pathways, and small tracks. Trekking at night and camping are very popular here. When planning a weekend vacation with family, couples, or a group of close friends, such activities are a blast.
Mukteshwar has a variety of cliffs and rocky outcrops with varying degrees of difficulty, so rock climbing is popular here.
Temples in the highlands have an inexplicable attraction, and Mukteshwar is no exception. Visiting the temples and Pahari Gods should be on your Mukteshwar bucket list if you want to connect with nature.
Mukteshwar is famous for paragliding. Typically, it is included in a camping package that consists of a variety of fun and exciting activities such as river crossing, night hikes, and food and lodging. The total cost of the package is around INR 5,000 per person.
You can see Nanda Devi, India's second-highest peak, from the heights of Mukteshwar; the breathtaking picture is enhanced by the sunrise's orange and golden colours. Capture it on the video to experience this spectacular dawn over and over.
Tourists go to Sitla for the sheer pleasure of seeing the Himalayas uniquely. Sitla, an exquisite hill station, is famed for its spectacular vistas of the snow-capped mountains, a must-visit place for tourists.
Mukteshwar Dham is a place where you can observe the majestic history-related things and make a firm belief in religion.
Many students of Geography are coming here for their project or thesis purpose so that they can visit Indian Veterinary Research Institute for an educational site inspection.
Kilmora shop is the best place to collect souvenirs for your relatives and loved ones. It is the place where you can buy the best woollen clothes.
If you are in Mukteshwar, you must visit the Nirvana Organic Store to collect the famous apple jam and mountain-grown rajma.
Bhalu Gaad Waterfall is where you can experience fantastic nature via trekking. Here we need to complete two river crossings to reach and see this natural beauty of waterfalls.
Best time to visit
You can plan to visit Mukteshwar throughout the year. The weather is pleasant here. The summer season in this town lasts from March to May. The days are hot, and the nights are cold, with a high temperature of 27 degrees Celsius.

Mukteshwar is the ideal place to go if you're looking for a break from the sweltering summer heat. March to June is an excellent time to experience the best holiday.
Hotels
Find your ideal accommodation here, from luxurious resorts to rural homestays. To stay happily in Mukteshwar, you can see the best-rated four hotels that we recommend here to get the best price and save extra.
Zostel Mukteshwar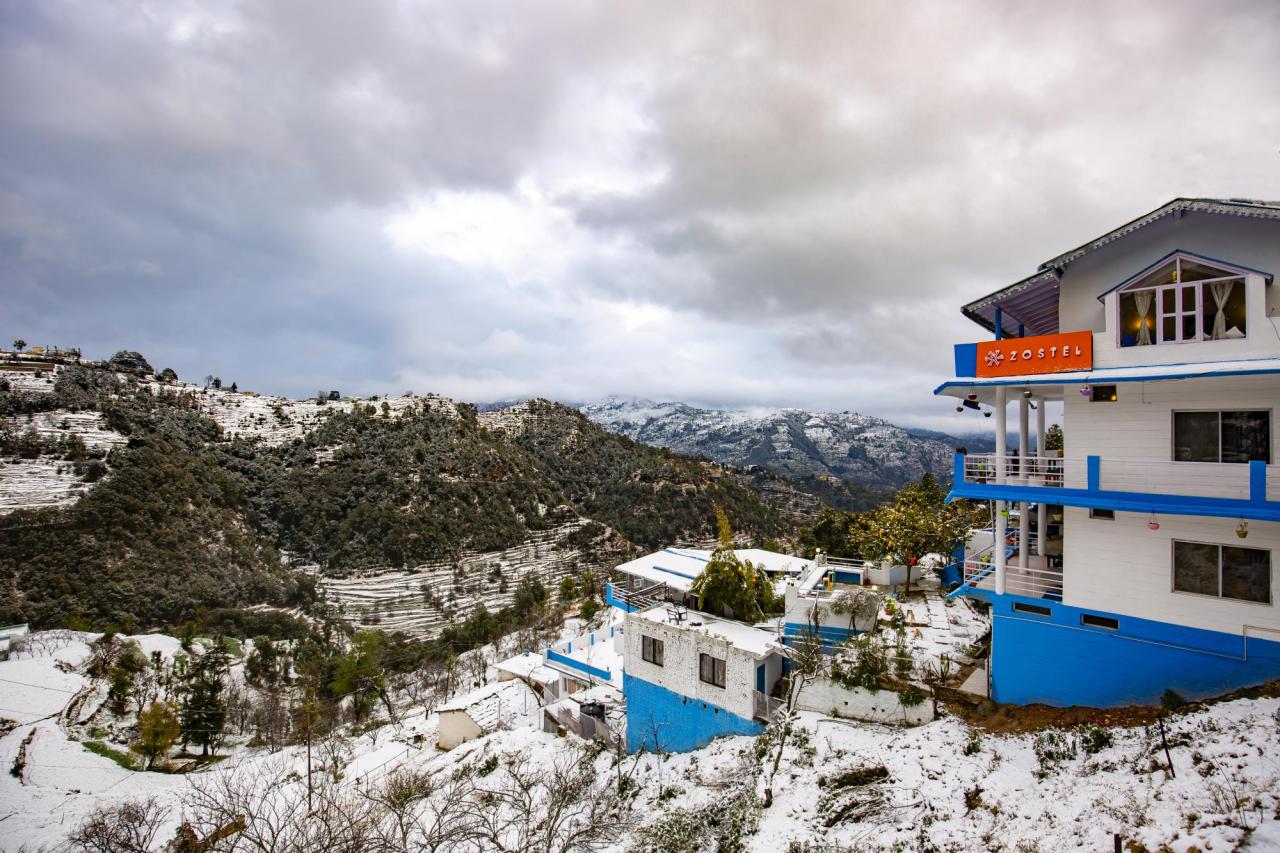 In the Himalayan mountain range, Zostel Mukteshwar is a backpacker hostel. It is a refreshing center for people who enjoy going away to the mountains since it overlooks a vast expanse of hills in a private and calm environment. The rooms are clean and large, with balconies that run the length of each of them. Here you can find two terraces for relaxing and a sports ground for volleyball and badminton; Zostel provides travelers with the most exciting stay in Mukteshwar.
juSTa Mukteshwar Retreat & Spa
At 7500 feet above sea level, the Resort is nestled amid the deodars, with unobstructed views of the surrounding hills. Inter-connected rooms are available here. Indoor play areas are allotted for children. So, you can have a great time here.
Trinetra Orchards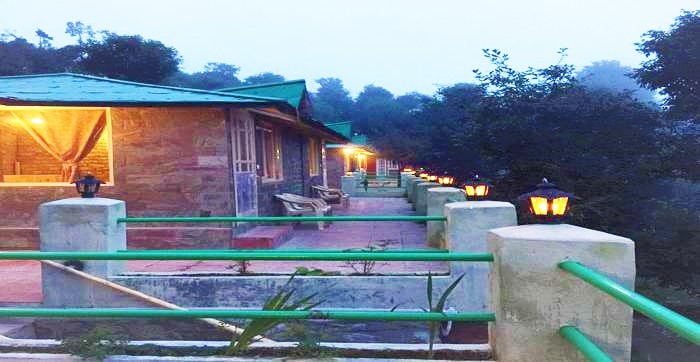 Trinetra Orchards is a 2-acre resort hotel. You can experience views of the Himalayas, surrounded by nature, with indoor and outdoor activities. Continental, Oriental, and Indian cuisine are served. This Hill Resort has 12 cottages available.
Cottage Nirvana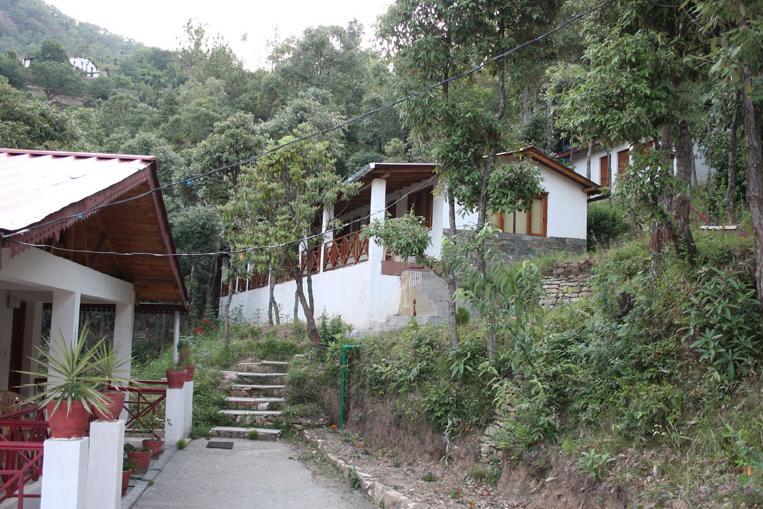 Cottage Nirvana is a quaint resort in Mukteshwar's Kasialekh. You can book your room online to get the offer price, and the cancellation is also non-chargeable here. This property is more than 1 acre in size and is bordered by a lush Silver Oak Forest. Mukteshwar is known for its fruit orchards, located away from the noise and close to Himalayan birds.