Ramgarh is a hill station and tourist spot on the road to Mukteshwar in Uttarakhand's Nainital district. This area is densely forested. The location was originally the English army's cantonment. Ramgarh has abundant natural resources, such as coal, which aid in the development of the district's industrial sector. There is an important thermal power facility in Ramgarh's Patratu area, which was built in the 1960s.
Overview
Ramgarh is a tranquil hill station in the Kumaon area of Uttarakhand. Ramgarh is located at roughly 1,789 m and just 35 miles from Nainital. It is scenic and offers a mesmerizing view. The pleasant climate of Ramgarh has traditionally attracted artists and philosophers. Ramgarh is an excellent location for taking in the splendour of the Himalayas in peace.

This place is famous as the 'Fruit Bowl of Kumaon' due to its abundance of apple, peach, apricot and pear orchards. Rabindranath Tagore stayed here and even considered establishing the Shantiniketan institution in this magnificent highland retreat. In Ramgarh, Uttarakhand, the All Seasons group has evolved into a travel and tourist empire that offers a wide range of services.
Location
You can reach Ramgarh by Train. The nearest rail station to Ramgarh is Kathgodam Railway Station, 45 kilometres away. Kathgodam is closely connected to major Indian cities like Kolkata, Lucknow, and Delhi. Every day, two trains travel from Delhi to Kathgodam and vice versa.

You can also reach Ramgarh by road. This station is connected to all main towns and cities by motorable highways.

If you want to reach Ramgarh by flight, Pantnagar Airport is the closest airport, about 76 kilometres away.
Things to do
Ramgarh is a peaceful hill station where visitors may relax amid nature. Ramgarh does not have much in the way of tours, but you can enjoy the unobstructed views of snow-capped crests from here. Ramgarh is a naturalist's paradise, where you can see the majestic Himalayas, go on nature walks and watch the sunrise and sunset. At Tagore Top, around 4-5 kilometres from Ramgarh city, you can also enjoy Himalayan views. We propose you pay a visit to the following prominent locations in the Ramgarh area for the best experience ever –
You can visit some nearby places and walk through nature. Sri Aurobindo Ashram, Hartola, Madhuban and Nathuakhan are the close spots to visit in Ramgarh.
Trails and mountain treks are available in Ramgarh and surrounding woods. So trekking is an alternative option for the youngsters to get a refreshing feeling.
You can explore some great foods available here, like Kafuli, Baadi, Fannahnt and, Chainsoo.
Seclusion for Bird Watching Ramgarh tourism draws a variety of bird species such as woodpeckers, pipits, mynahs, red and jungle-fowls to its lush woods and greenery. You can experience this wildlife here to take an adventurous experience.
Nathuakhan is a lovely hamlet located 9 kilometres from the seclusion of Ramgarh, a famous tourist spot here. From this beautiful location, visitors may take in the breathtaking views of the massive Himalayan peaks.
If you want to buy some wooden handicrafts or dresses or woollen clothes or souvenirs for your relatives and family, then you can take a market tour.
Bhimtal Lake is a famous place here in the Nainital district of Uttarakhand. If you visit Ramgarh, then this is a must-visit site. The lake serves as a source of drinking water and supports aquaculture for various fish species.
If you love fishing, then Ramgarh is your place to experience it again in front of the serene nature. The Kosi River near Ramgarh, Uttarakhand, is an excellent place for fishing. Many nearby resorts offer all of the required amenities for fishing in the Kosi River.
Ramgarh's deep forest and beautiful green meadows entice visitors to take nature walks in seclusion. Couples can find it great to take a nature walk in this beautiful place.
Best time to visit
Summer is the most incredible time to visit this location for tourists. The lovely atmosphere and warm summers entice travellers, particularly from the northern belt of India, to witness the mesmerizing beauty of Ramgarh. Ramgarh is best visited between October and May. Ramgarh is a hill station with hot summers (May-June) yet moderate temperatures ranging between 20 and 30 degrees Celsius.

Winters in the area are bitterly cold, with temperatures often falling below 2 degrees Celsius. The winter season, which lasts from November to February, is not the best to visit. This is the most inconvenient time to visit Ramgarh. Except for the most daring adventurers, the severe winters, coupled with cold temperatures, dissuade visitors from visiting the area.

Rainfall does occur from July to September, but it simply adds to the area's vibrancy and greenery. Mild rainfall occurs during the monsoon season, leaving the environment refreshed and flowering. This is one of the most significant times to visit Ramgarh if you have a tight budget.
Hotels
Luxury hotels and things to do are all available in Ramgarh. Here's where you can start planning your vacation. With the best Price and Ratings here, we present four destinations to spend your holiday to find the best deal for you. At these 5-star hotels and cottages, you'll get the best of the best.
Seclude Ramgarh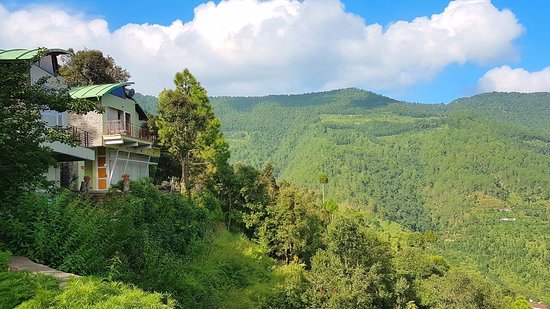 Seclude Ramgarh, perched on the cliff's brink, is about 16 kilometres from Ramgarh city centre. This resort has a parking and wifi facility. You can witness a beautiful view of mountains from this hotel.
Neenrana's – Ramgarh Bungalows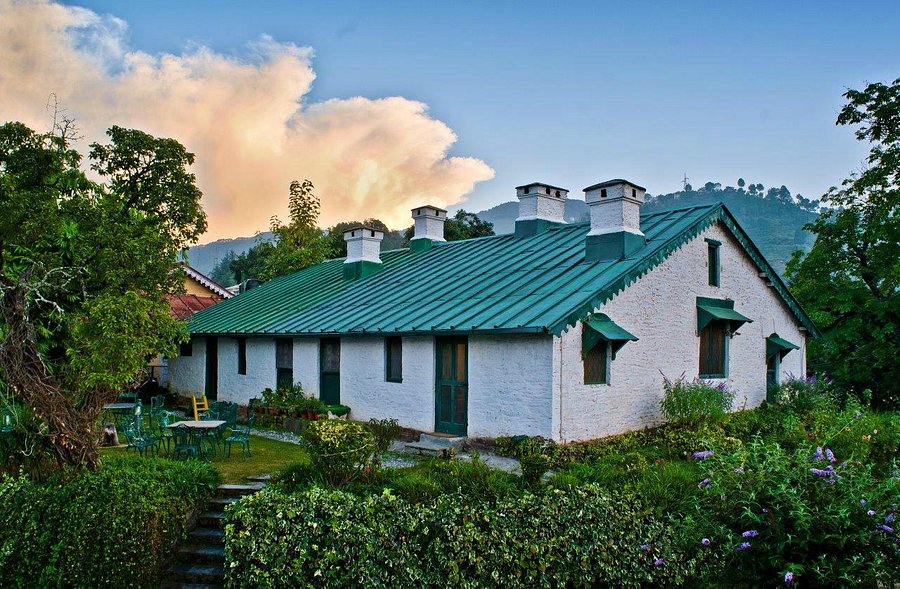 This magnificent hotel is the ideal blend of peace and luxury for a refreshing retreat in the lovely natural ambience overlooking the stunning countryside. Each room has a different colour and is filled with antique furniture. Delectable Indian and continental cuisines are served in the in-house kitchen, with a dining hall. Other amenities include a games area, patio, and cliffside dining.
Le Lac Sarovar Portico
The best premium business class hotel in Ramgarh is Le Lac Sarovar Portico. It is operated by Sarovar Hotels & Resorts. The hotel provides large rooms, attractive design, the most significant types of continental and traditional specialities, and friendly services of competent employees make your stay at LE LAC SAROVAR PORTICO an unforgettable experience.
Nayalap – Rural Himalayan Glamping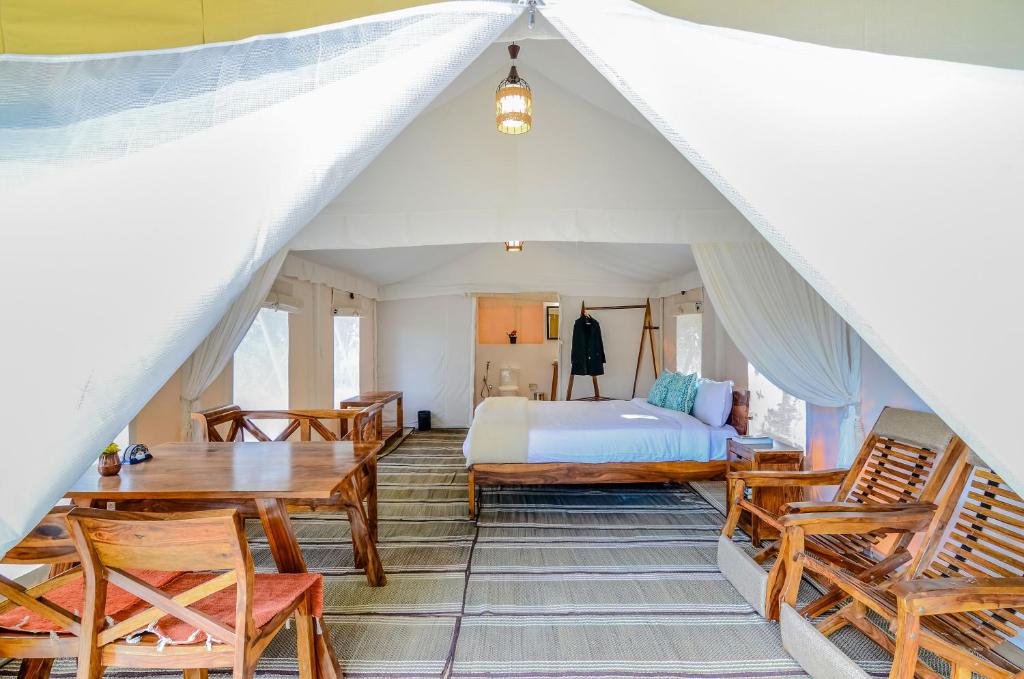 Nayalap - Rural Himalayan Glamping is in Shitlakhet, 26 miles from Nainital. Here you can experience the luxury tent with free wifi and fantastic food from the kitchen of Nayalap. There is a private bathroom with a shower and complimentary amenities.