Dhanaulti is a hill station located 115 kilometers from New Tehri and an attractive tourists spot in Uttrakhand. Dhanaulti is a tehsil located in Uttarakhand's Garhwal district.
Overview
The Uttarakhand Forest Department has built Eco Park, the main Dhanaulti attraction. This fantastic destination attracts an increasing number of tourists each year due to its spectacular hill panorama vista. Dhanaulti combines leisure and adventure for the tourism industry and is an excellent place for all age's people. It is a haven for adventure sports and activities, with snow-capped mountains and breathtaking views.

Dhanaulti is surrounded by lush, natural woods of Deodar, Rhododendron, and Oak. This marvelous place exudes a wonderful sense of calm and tranquillity. The long forested slopes, peaceful outdoors, calm crossing wind, kind and welcoming residents, great weather, and spectacular view of the snow-capped mountain make it a perfect hideaway for a relaxing vacation. Dhanaulti is around 24 kilometers from Mussoorie and 29 km from Chamba.


Location
You can reach Dhanaulti by air in just a couple of hours. The nearest airport is Jolly Grant Airport in Dehradun, around 82 kilometers away, so you can easily avail that to reach your dream location. To get to Dhanaulti and the surrounding districts, taxis and cabs are widely accessible.
If you want to make your trip by train, then you can avail the nearest railway station Dehradun, which is approximately 25 kilometers away from Dhanaulti. There are regular trains like the Doon Express, Delhi to Dehradun Shatabdi, Mussoorie Express, and Jan Shatabdi.
The best way to get to Dhanaulti is to travel via road to Mussoorie, which is around 33 kilometers away and is the nearest tourist destination. Cabs and taxis and regular and luxury buses are accessible in Dhanaulti due to its popularity among the inhabitants, so pack your bags and come to visit this mesmerizing beauty of hills.
Things to do
Dhanaulti offers a fantastic holiday surrounded by majestic Himalayan hills and green pine and oak woods. However, the location is rising in prominence these days, and its stunning beauty is well worth seeing. Dhanaulti experiences you should not miss out on while on vacation here; the items listed below are sure to satisfy the tourists' adventurous inner selves –
In Dhanaulti, you must experience the majestic of the hills via Trekking.
You can also experience boating to relax in the Company Garden.
Camping is the best experience one can have here in Dhanaulti to stay in front of nature and spend the best times of life.
Rock Climbing is also very famous here, so this is a must-do thing.
Valley Crossing is another activity to experience here.
Mountain Biking and driving are a must for the youngsters.
You can experience Paragliding from up high to witness the majestic views here.
If you are visiting Dhanaulti with your family or friends, you must take a Village Tour to learn about the culture of the Pahari people and experience the serene beauty with no pollution.
Skating is a fun Sports Activity for the tourists here in Dhanaulti.
You must enjoy the spectacular sight to see the Sunset from Potato Farms.
You can experience Zip Lining to take a marvelous experience in Dhanaulti.
Best time to visit
Winters are the most outstanding season to come since Dhanaulti is entirely covered in a thick covering of snow, giving several options for adventure activities and camping. Those who do not enjoy the cold of winter might visit this magnificent paradise to enjoy the pleasant summer season, April to June. In light of the preceding, the optimum months to visit Dhanaulti are September through June.

The most significant time to come is from September to June, when tourists can fully appreciate the natural beauty and beautiful surroundings. Monsoons and winters should be avoided since they bring terrible weather conditions to Dhanaulti.
Hotels
Most hotels in Dhanaulti are very comforting for visitors who stay or share a room. Guest capacity is also determined by the hotel's policy, which differs from one to the next. Many hotels in Dhanaulti provide family rooms, either big or have adjoining rooms that share a door. In Dhanaulti, getting a free room upgrade is entirely dependent on the season and the hotel (property). During the off-season in Dhanaulti, it's common to receive complimentary accommodation upgrades. If the hotel or resort has a significant number of empty rooms, you may be able to secure a promotion. Here are the best four hotels list for your security and happiness –
Hotel Dhanaulti Heights GMVN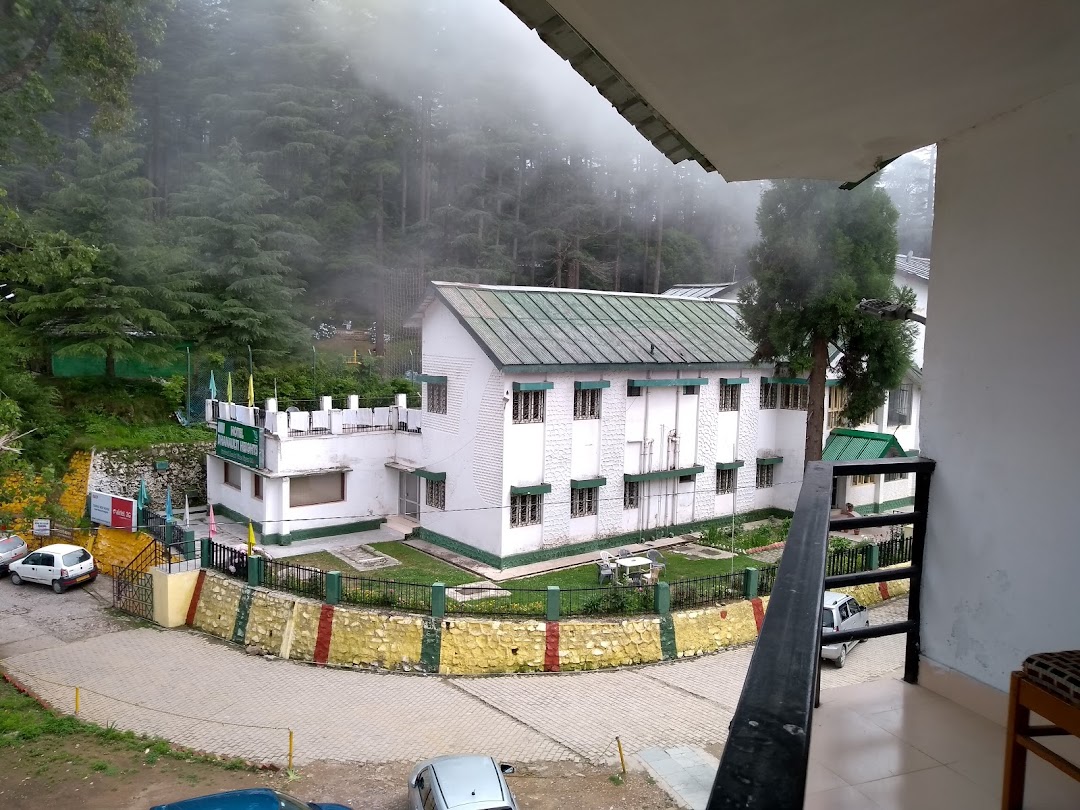 Hotel Dhanaulti Heights GMVN is the place to stay if you're seeking a compact hotel in Dhanaulti. This property is short of Surkhanda Devi Temple (2.6 mi). The atmosphere is very homely, and the hotel's services are very comfortable. There is an in-house restaurant in the hotel with delicious foods. Free parking is also available here.
Camp Dhanaulti Magic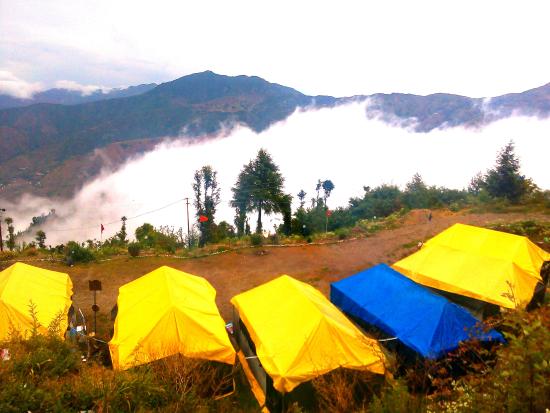 Camp Dhanaulti Magic is the closest luxury campground to Dhanaulti (3 km). It is magically positioned in the Dhanaulti region, with a calm surrounding of Deodar, oak, walnut, and apple trees, from where you can get the most incredible view of the magnificent Himalayas. This camp is situated amid an apple orchard. It provides a great ambiance of serenity and calm.
Green Forest Resorts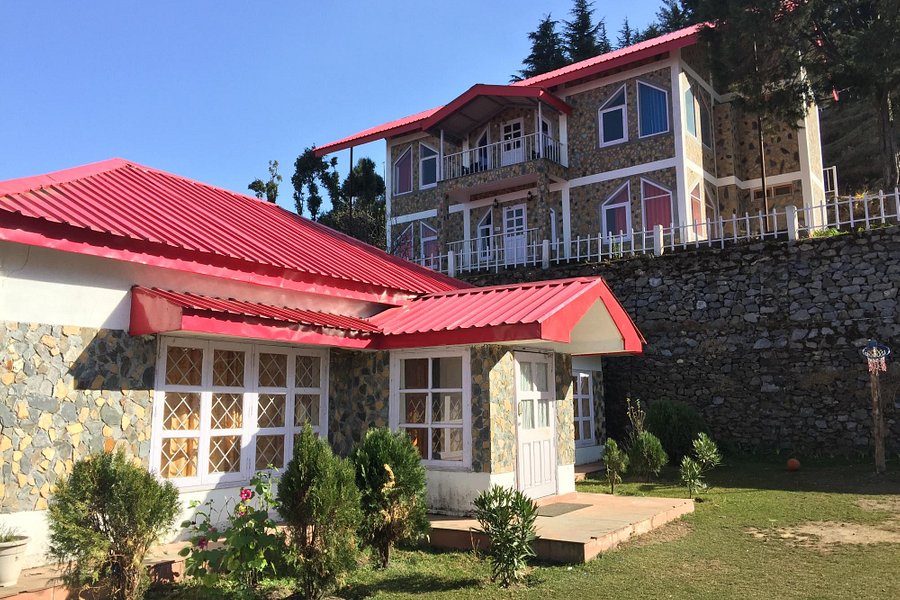 Green Forest Resorts is one of the best resorts to live in here in Dhanaulti. One-room cottages (for two people), two-room cottages (for four people), three-room cottages (for six people), deluxe rooms, and super deluxe rooms are all available here. This hotel offers excellent service, provides room warmers, and makes tourists feel at ease.
Whispering Pines Himalayan Retreat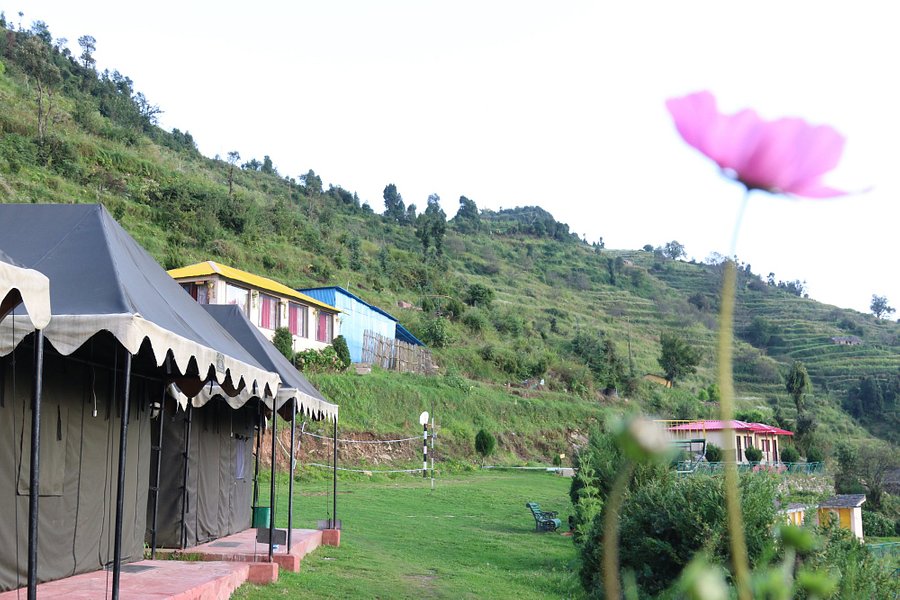 At almost 8,000 feet above mean sea level, Whispering Pines is one of Dhanaulti's highest adventure resorts. At this height, it's also one of the nearest active lifestyle family vacation destinations from Delhi. Whispering Pines also features one of the country's best sunrise views. Whispering Pines Himalayan Retreat offers a high degree of luxury, an endless choice of amusement and activities for all ages, and a retreat that is almost sprawled across a whole hilltop.