Kausani is one such Uttarakhand hamlet known for being a charming hill station. Kausani is famed for its panoramic view of the gigantic Himalayan peaks.
Overview
Kausani is a hill station of Uttarakhand, located in the Bageshwar district. If you are not sure where to go, you can have the experience of coming to this gorgeous hill station without a plan to see it. The magnificent dance of colors on the mountain peaks around Kausani keeps you occupied for a whole day to experience and feel this majestic view. This town of Uttarakhand is renowned for its breathtaking panoramic view of Himalayan peaks such as Trishul, Nanda Devi.

You may also explore the nearby woodlands, full of trickling creeks, singing birds, and free from the crowd. In Kausani, you can see at least 250 species, which makes this place like heaven for nature lovers. Kausani is a perfect destination for a peace-loving person who wants to spend quality time in front of nature and away from the hustle and bustle of city life. This village's location is undoubtedly worth a visit for its rich wildlife and lovely sights, which are the best attraction for tourists throughout the year.
Location
If you want to reach Kausani from Kolkata, the preferred route is by train to Bareilly, then by cab to Kausani, which takes around 26 hours.

If you prefer to go by flight, Pant Nagar is the closest airport to Kausani; you can take a cab from Pant Nagar to safely reach Kausani, your dream destination.

You can also reach Kausani through the railway; Kathgodam is the nearest railway station, from where one may begin the ascent to Kausani via Almora.

To reach Kausani by road, one can avail Kathgodam railway station to get the ascent to Kausani via Almora. The journey via Ranikhet is similarly spectacular.
Things to do
Kausani is a surreal and magnificent spectacle noted for its pristine beauty, snow-capped mountains, dreamy valleys, and lush pine woods. Kausani is also called 'India's Switzerland,' one of the most beautiful and heavenly hill retreats. So here we are talking about the must-do things while in Kausani –
Anasakti Ashram, a serene ashram in the lap of nature, was where Mahatma Gandhi spent a few weeks in 1929. It is a famous tourist spot in Kausani to visit this place with your family.
The most popular thing to do in Kausani is to watch the mesmerizing sunrise view over Nanda Devi.
If you're looking for something to do in Kausani, head to Gwaldam and visit the Sleepy Village with plenty of natural beauty and magnificent spots like the Badhan Garhi temple, Angora Farm, Buddhist Khamba temple, and Gwaalnag Valley.
To have a wonderful treat, you can explore Kausani Tea Estate, a marvelous place to visit with family, friends, and couples. The Kausani tea estate is a fantastic spot, situated 1800 meters above sea level. This tea estate produces the famed and unusual Giriha's tea. In this tea estate, tourists may spend hours admiring nature's splendor.
If you're looking to spice up your vacation to Kausani, look no further; just come to Kausani and do rock climbing. Rock climbing is quite popular here.
A visit to the Rudradhari falls, and caves should appear high on your list in Kausani.
When history and mythology collide, you get a stunning architectural achievement like the Baijnath temple in Kausani, a must-visit destination. This place is famous for anticipating praying. The temple occupies a particular position in Hindu mythology since it is located near the Gomti River.
Kausani shawl factory is a lovely business where local people create gorgeous and unique woolen shawls, jackets, and more from natural wool obtained from Angora rabbits. This is the best place for women and shoppers to spend their time with happiness.
Best time to visit
Kausani is best visited between April and June. If you love snow and want to explore yourself in the mid of a beautiful snow-covered village, then December to February is the fabulous time to come. Kausani is the Pantnagar Airport, roughly 170 kilometers distant, is the closest airport from Kausani. Between September and May, you can also explore Kausani for relief. Summer months in Kausani are from March to May, with pleasant temperatures.
Hotels
Compare the prices of hotels online and confirm your reservation before its gets too late. Here we are discussing the four best hotels of Kausani that can give you the best luxurious experience to spend a fabulous holiday.
Heritage Resort Kausani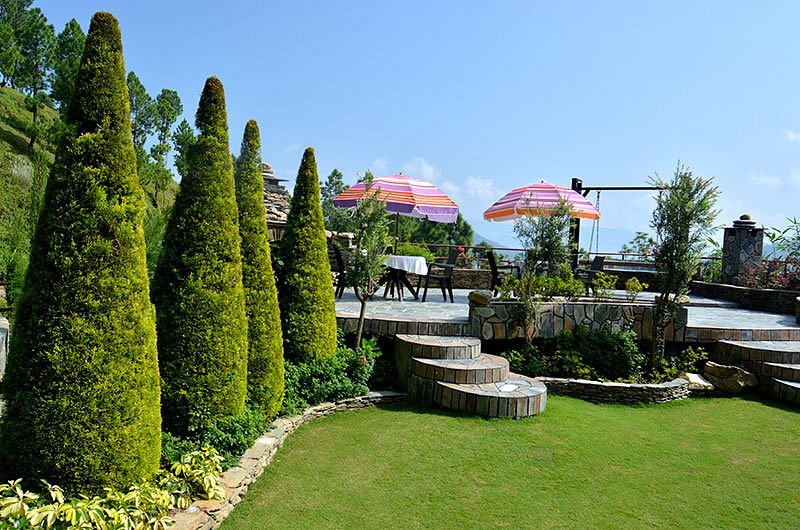 Heritage Resort invites you on a delightful vacation journey to Kausani, one of Uttarakhand's most fantastic tourist attractions. The Heritage Resort is located in the center of Kausani, where you are face to face with flawless natural beauty and pleasant weather. It offers beautiful views of the Himalayan peaks, Tea Gardens, etc.
Pratiksha Himalayan Retreat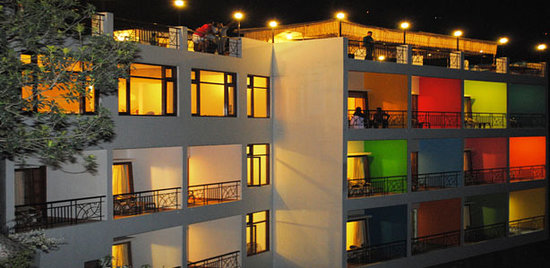 In Kausani, you can relax in Pratiksha Himalayan Retreat, a superb alternative for you. Pratiksha Himalayan Retreat has a 24-hour front desk, room service, and luggage storage to make your stay more pleasurable. The hotel offers a complimentary breakfast also. There is free parking at Pratiksha Himalayan Retreat, which is also great.
Himalaya Darshan Resort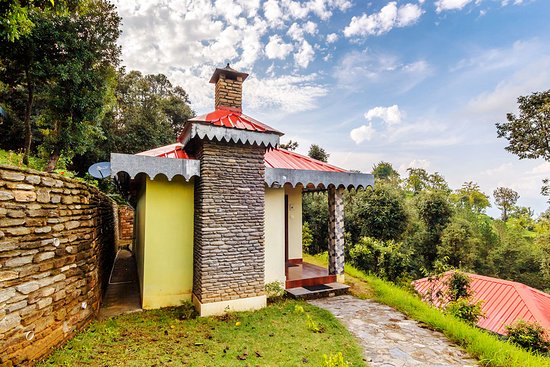 Kausani's only Cottage Style Resort is Himalaya Darshan Resort which provides a stunning view of snow-capped mountains and lush green valleys of this majestic place Kausani. You can take advantage of your free time by participating in activities such as a nature path, a jungle walk, bird viewing, and other indoor and outdoor activities.
The Buransh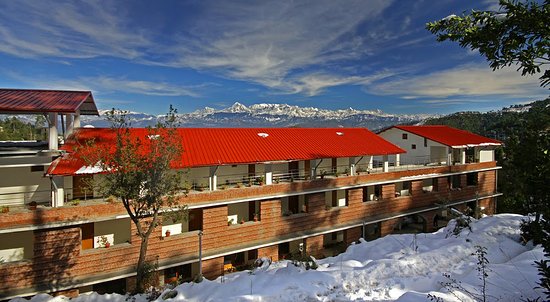 We want to celebrate all days of our life in peace. And, of course, the magnificent Himalayas around the retreat in Kausani can give us the perfect ambiance to spend a perfect holiday. The Buransh Retreat is a resort with ultra-spacious suites and has full-length glass windows with panoramic views of the Himalayas from every room. Even in the coldest weather, you may stay warm with an electric blanket and gaze out the window for hours while sipping a hot cup of coffee or tea.